How resident discourse with police has shifted in America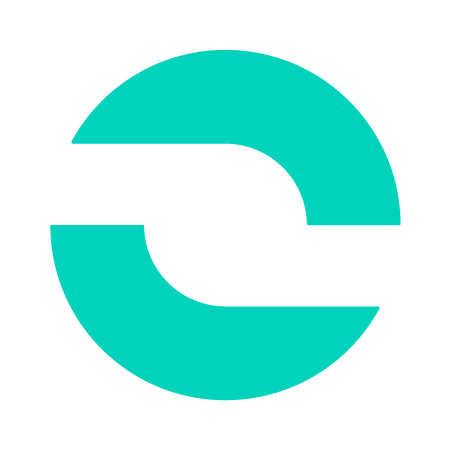 Zencity
The Platform for Community Trust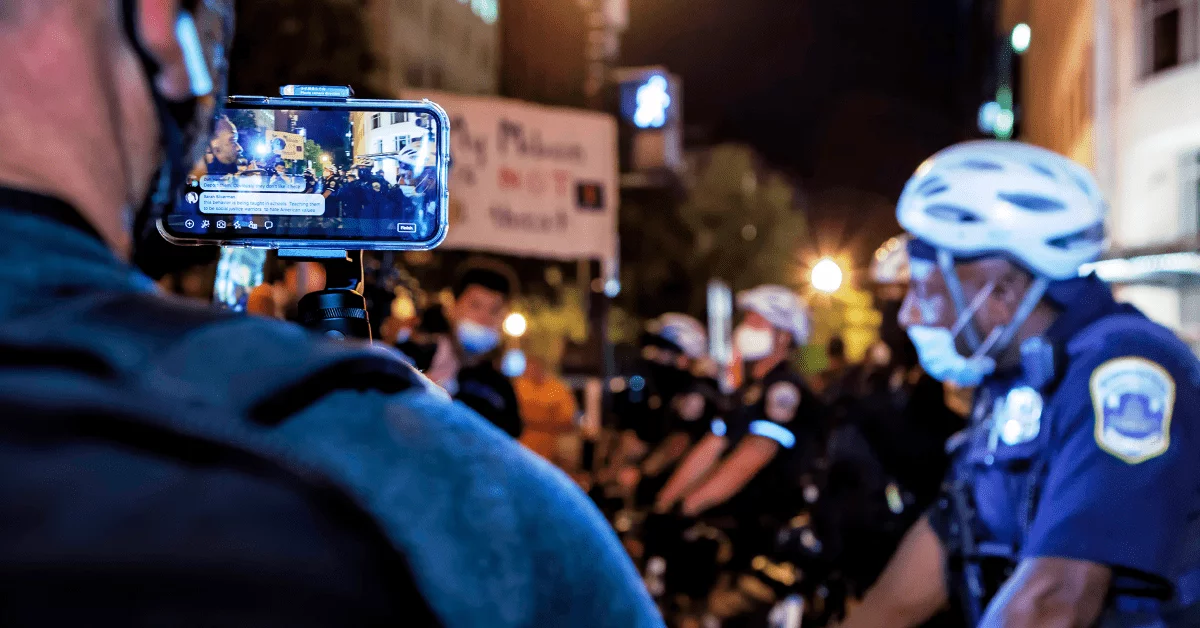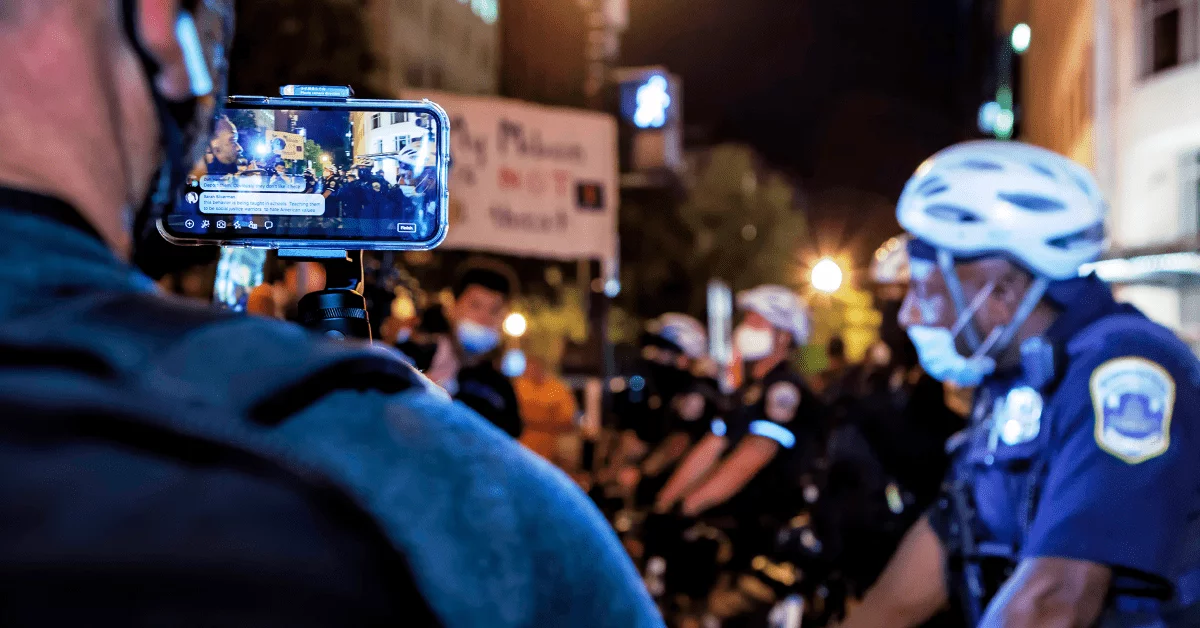 One year later, and in light of the verdict that was served in George Floyd's murder at the hands of Minneapolis police officer Derek Chauvin last spring, Zencity reflects on how discourse about policing and with police has forever been changed in the United States.
George Floyd's murder, just under one year ago, and the viral video filmed by a brave 17 year old, Darnella Frazier, capturing Floyd's last words, "I can't breathe," gave rise to global outcry and catapulted the Black Lives Matter movement to new heights. Assessing the impact of the movement and the tectonic shift in Derek Chauvin's conviction is no easy feat, but one thing we can measure is how communications about police and between police departments and their communities has changed over the past year.
Zencity aggregated and analyzed organic discourse from approximately 200 communities across the United States, in order to identify broad trends in police-related discourse.
Key Findings
Public discourse around policing is 2X greater on average since George Floyd's murder – it's not waning, it's the new reality
In cities with a population above 250K, proactive police communications have increased by 101% spurring more dialogue directly between law enforcement agencies and their residents
Despite the pandemic, Americans are discussing police and public safety-related topics nearly 2x more than they're discussing public health (and COVID related topics)
Methodology
At Zencity, we specialize in analyzing sentiment and levels of interest around civic-related topics – like law enforcement and community policing – so that local governments can better understand their community members' priorities and concerns.
One year after George Floyd and a wave of social justice protests across the country, we ran our data analytics on discourse about policing from January 2020 – before Mr. Floyd's murder – to the present. We analyzed over 174 million interactions about public safety, police, and racial justice, from 32,772 data sources. These sources spanned official city, county and law enforcement agency social media channels; local and regional news outlets; civic and community group communications; grassroots organization; local business forums; organic Twitter chatter; and more. We compared aggregated and analyzed levels of discourse from these sources in the months prior to George Floyd's killing, to the average over the months following. We also decided to take a closer look at big cities in the United States and see how police-led discourse has changed. This is what we learned.
Trends in Discourse Levels
Public discourse around policing is 2X greater on average since George Floyd's murder – it's not waning, it's the new reality
In June 2020 – just following Mr. Floyd's arrest and death, discourse about policing peaked – with a 544% increase compared to the monthly average in previous months that year. Topics like racial justice and police reform dominated social networks. Although this percentage in growth decreased in July, interest remained higher overall as protests against racial injustice continued to spread across the nation: the monthly average of police discourse in the period of July 2020 through the present has been, on average, nearly 2X greater per month than in the preceding months (January through May 2020).
This increase shows a significant rise in engagement on police and law enforcement-related topics – that has sustained since George Floyd was killed. The 544% spike in June 2020 was not an anomaly – heightened interest has had staying power and public attention towards the police is not a passing trend, it's a new reality.
Trends in Police Communications
In big cities, proactive communications by police have increased by 101% spurring more dialogue directly between law enforcement agencies and their residents
We honed in on Zencities above 250k and took a closer look at how law enforcement agencies in bigger cities have been responding to the increased attention on policing and police budgets. The data shows that law enforcement agencies increased their own engagement and proactive communications. Specifically, the second half of 2020 and the start of 2021 – marked by the Black Lives Matter movement, and then expectations around Floyd's murder trial, showed, on average, have more than doubled – with a 101% increase in active outreach and communication by police departments in big cities.
On the one hand, increased outreach efforts were surely in response to the protests, subsequent police clashes and racially motivated incidents, media coverage, and public attention police departments were receiving. Conversations about defunding and reform also caught the eyes and ears of police departments.
On the other hand, increased outreach most likely contributed to the general heightened and sustained levels of police-related discourse and attention towards police departments. As police departments respond to the new reality of being more closely scrutinized, they also actively sustain interest by being more engaged in conversations with their community members.
Trends in Engagement
Two-way communication between police and their community members is on the rise
Following George Floyd's murder, a conversation has been initiated between police departments and their constituents across the country. Police have increasingly reached out via social media and otherwise, and they've proactively engaged more through tools like Zencity (formerly Elucd). In parallel, residents have been responsive to these communications. Americans have begun using police social media channels as a platform to voice their criticism, support, and demand for policy changes, and a major shift has taken place – where conversation was not just about police, but also with police.
Discourse: Police vs Public Health
Despite the pandemic, Americans are discussing police and public safety related topics nearly 2x more than they're discussing public health (and COVID related topics)
Finally, many have reflected on the impact of the COVID-19 pandemic on the Black Lives Matter movement. Perhaps the only thing that shook the United States to its core more than the social justice protests of the spring and summer of 2020, was COVID, which has since cost more than half a million Americans their lives. Nonetheless, even as an unprecedented global pandemic altered nearly every aspect of public life, since George Floyd's murder discourse about police and public safety is nearly 2X higher than discourse about public health.
At the end of the day, the increased and sustained conversations about policing, police reform, and racial justice, in the wake of George Floyd's murder, could not be stifled by the pandemic.
Looking forward
Although the verdict has been returned and former Minneapolis police officer Chauvin is guilty on all charges, the work has just begun. Law enforcement and legislative agencies are rising to the challenge to transform policing in the United States and to improve police-community relations.
Over the past year, as law enforcement agencies struggle to bridge a growing trust gap with community members – a gap dramatically widened by George Floyd's brutal arrest and murder – police departments, in particular, are looking for new ways to hear all of their residents and have identified the importance of improved communications and increased trust with their constituency.
At Zencity, we have the privilege of working with hundreds of local government agencies and police departments – and we see first hand the hard work of public servants at affecting this change. Measuring how discourse levels in the United States have grown – from the public and agency side – is certainly one metric demonstrating the important and permanent impact of George Floyd's unjustified death. As his historic trial comes to an end and the country braces for change, Zencity will continue to look at trends in attitudes towards policing across the country in order to help the local governments we work with better serve their residents and improve community relationships.
Zencity is uniquely positioned at the heart of the important issues of our time. Let us help you bridge the gap between your residents and your service for better community relations.